Wrapping Paper DIY:
sequin Ribbon Design
For a special occasion, sometimes you just want to add a little flair to your wrapped gift.
Here's a fun idea that doesn't take a lot of extra time or effort, but produces a cool design with a band of sequins across your gift.
Here's What You'll Need:
A wrapped present (we used hot pink reversible wrapping paper)
Double sided tape
Sequins of various sizes
Using double-sided tape, wrap it around the package a few times (as wide or as narrow as you want). We prefer to wrap the package in tape about 3 times around, which makes a band that's about 1.5″ wide.
Shake the sequins on the gift and press them onto the tape. You can also use glitter, but as we all know glitter can be a little messy for both you and the recipient. We used a bag of sequins of various sizes, which gave the band good dimension and made it easier to fill in gaps.
Shake off the excess and reattach the ones that fell off, filling in any gaps.
There you have it — with just sequins and double-sided tape, you have a really unique, glamorous gift to give someone for their birthday or other special occasion.
Still need some extra help? Watch our full video tutorial below:
Reversible Wrapping Paper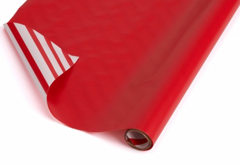 Now that you've seen the video, use our reversible wrap and give the technique a try yourself! Your recipient will appreciate your cool looking presentation.
Shop reversible wrap

Gift Wrap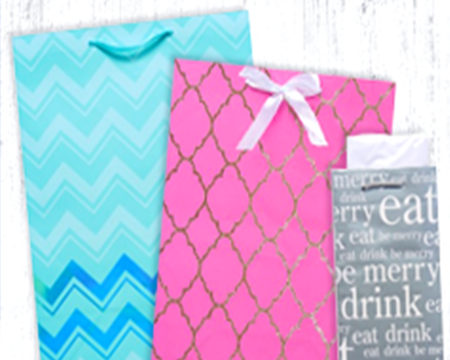 Let's be real. The colorful paper, tissue, bags, and bows are half the fun of receiving gifts, so be sure to keep some on hand. Shop easily from home and we'll deliver straight to your door.
Shop gift wrap

Creative Gift Ideas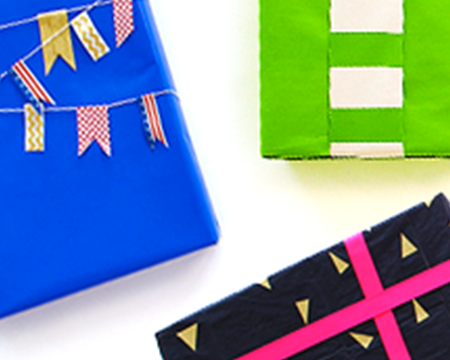 Find unique and different gift ideas for anyone and any occasion, along with more gift wrapping tutorials full of neat tricks to keep up your sleeve. (We won't tell.)
See more
More Gift Wrapping Instruction