Wrapping Paper DIY:
Washi Tape Triangles
It's fun to give your wrapped gift a totally unique look, so we're always experimenting with different combinations of wrap, ribbon and other crafty details.
Here's a fun wrapping paper DIY that recreates the cool geometric pattern trend using tissue paper for the wrapping paper, embellished with ribbon and washi tape. The complete look takes just a few minutes to complete, but creates a super stylish presentation.
Here's What You'll Need:
A gift box
Gold washi tape
Double sided tape
Hot pink grosgrain ribbon
Scissors
Black tissue paper
We wrapped our gift using the black tissue paper — we loved the trendy matte finish and the way it complemented the other textures of the ribbon and washi tape.
We then attached our ribbon to the package in an offset plus pattern using double-sided tape. Starting from the back of the wrapped gift, you lay down a piece of tape and then press the ribbon on it, about ½ way along the double-sided tape. Wrap the ribbon around the gift and cut the ribbon to line up with the rest of the double-sided tape.
Repeat this process in the other direction, creating an offset plus on the gift box.
(Pro tip: using double-sided tape prevents having to tie a knot and gives the gift a more sleek look!)
Cut pieces of washi tape in a triangle pattern and press them around the gift package. They don't have to be all the same size or cut at the same angle, so cut them free-hand and don't worry about them being perfect.
Continue to cut triangles and press them around the back and sides, letting the washi tape fold over corners, too, if you like.
And there you have it — a super stylish package just using a few simple craft supplies that doesn't take a lot of extra time or effort!
Still need some extra help? Watch our full video tutorial below:
Reversible Wrapping Paper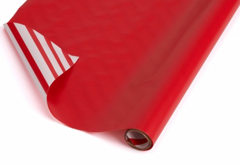 Now that you've seen the video, use our reversible wrap and give the technique a try yourself! Your recipient will appreciate your cool looking presentation.
Shop reversible wrap

Gift Wrap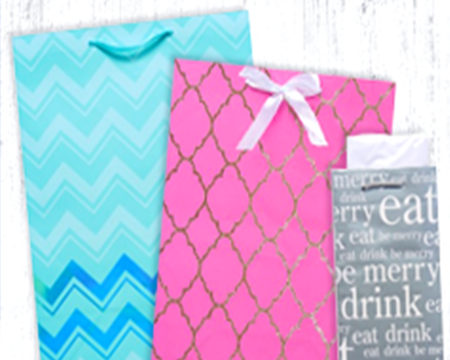 Let's be real. The colorful paper, tissue, bags, and bows are half the fun of receiving gifts, so be sure to keep some on hand. Shop easily from home and we'll deliver straight to your door.
Shop gift wrap

Creative Gift Ideas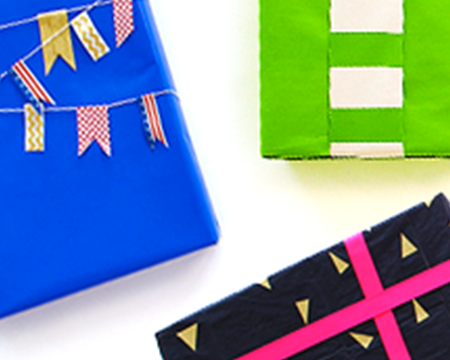 Find unique and different gift ideas for anyone and any occasion, along with more gift wrapping tutorials full of neat tricks to keep up your sleeve. (We won't tell.)
See more
More Gift Wrapping Instruction