Galentine's Day Gift Ideas
When you think of Valentine's Day, you might think about romantic love, red roses, and heart-shaped candies. What you may not know is that there's another day — Galentine's Day — that's solely dedicated to celebrating valuable friendships. As the name implies, it's all about telling your favorite gal pals just how much they mean to you.
We've come up with a few Galentine's Day gift ideas for showing some love to the special ladies in your life.
Memory Box
You likely have many pictures of you and your BFF, and if you've known her long enough, some of these may even date back to grade school days. A memory box keeps all these photos in one place so she can open it and look back on the good times you've shared.
Find an old box with a lid or purchase a small storage box from a craft supply store. (Many craft stores carry durable storage boxes designed to match your home or office décor.)
Get creative and include more than just pictures. For example, if there's an item with a funny backstory or a trinket that reminds you of an inside joke or special memory, place it in there!
To top it all off, choose a greeting card and write a heartfelt message. She'll love the thoughtfulness you put into such a simple gift idea, and she can even add to it herself. (It makes a great spot for cards you give each other throughout the years!)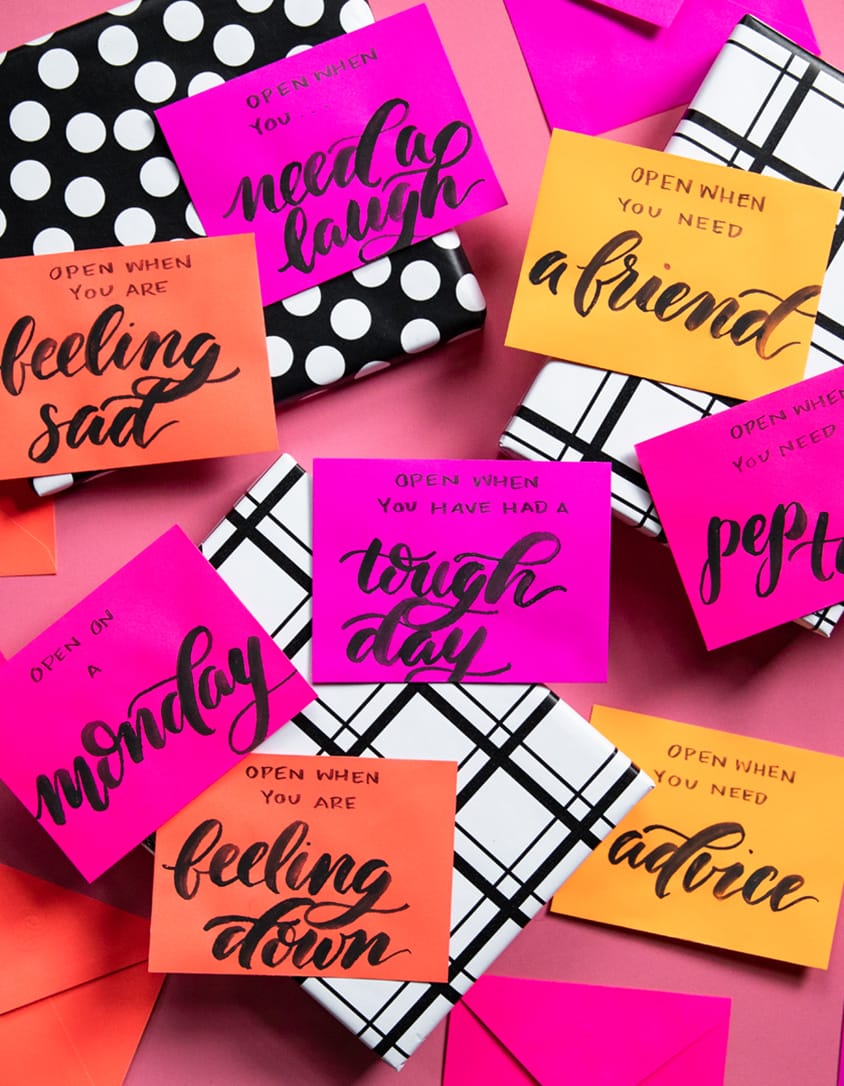 "Open When" Cards
You've been there for her best and worst days, but for the times when you can't physically be there, prepare some "open when" cards to show her how much you care.
Think of a handful of moments for which she can open a card from you, or choose significant dates from your friendship (like a "friendsiversary," for example).
Here are some ideas:
Open when you've had tough day at work

Open on [insert date]

Open when you're feeling down

Open on your birthday

Open when you could use a pep talk
Once you've chosen your "open when" moments, get a greeting card for each and write a custom message inside. Then label the envelopes accordingly.
Stack them up, neatly tie with a ribbon, and voila! — a considerate gift that keeps on giving.
Gals' Night Idea Jar
You probably have some favorite spots you frequent when you want one-on-one time together, but maybe there are some local hangs you haven't yet explored. Or, perhaps you're fresh out of ideas and could use some inspiration. Either way, a gals' night idea jar is a fun, creative gift for your gal pal.
This can be as simple or elaborate as you'd like, but you'll need colored paper (use red and pink for your Galentine), a pen, and a medium-size mason jar.
Cut your paper into small squares and on each piece, write the name of one of your favorite spots or the name of somewhere the two of you have been meaning to check out. You can even add "my place" or "your place" to the mix!
(Tip: If you'd like, you can color-code the ideas so she knows that every red piece of paper is a place you two have never been, and every pink piece is one of your go-to destinations.)
It's okay if you don't have many places to choose from; you can add the same idea twice — even a few times! Fold the pieces a couple of times and place in the jar.
Pair with a card that explains the gift: Whether it's a new destination or our favorite bar, choose our next girls' night right out of this jar!
Create the perfect gift presentation using a variety of Valentine's Day gift wrap.
Find the perfect Valentine's Day paper cards and celebrate loved ones all year long.
Send a Valentine's Day ecard to that very special someone!
More Valentine's Day Gift Ideas