What To Write In A Valentine's Day Message To Him
"It's not where you are in life; it's who you have by your side that matters."
Does the special man in your life know how much he means to you? Putting your thoughts into words doesn't come easy for most of us. Husbands, boyfriends and lovers all deserve to hear how you feel, so we've gathered some ideas of what to write in a Valentine's Day card for him that will help you say what's in your heart.
Valentine Messages for Husband
Happy Valentine's Day — my love, my life, my heart, my forever Valentine.
Thank you for being the reason I look forward to every day.
Happy Valentine's Day to the best husband ever!
Thank you for making my world such an awesome place.
Happy Valentine's Day — you're my happily-ever-after, my forever love, and the hero of my heart. I love you.
You're all that I ever hoped for in a husband, and nothing makes me happier than knowing we're building a wonderful life together.
Valentine Messages for Boyfriend
On Valentine's Day and every day, next to you is my favorite place to be.
It's Valentine's Day and I wish I was kissing you instead of missing you!
The longer we're together, the closer we get. So happy we found each other.
You and me — it doesn't get any better than us.
I wanted to get you a special box of Valentine candy, but I couldn't find bacon-flavored chocolate hearts!
I may not be your first date, first kiss or first love, but I just want to be your last everything.
Some women need red roses, a bottle of wine and a box of chocolates to feel romantic. I just need you.
I wish I could give you the world for Valentine's Day. Will you settle for my heart?
Valentine Messages for Lover
You're sweet, strong, smart and sexy. I'm so glad you're mine!
Every time I'm with you, the room gets a whole lot hotter.
You are my lover, my partner, my inspiration, my best friend, my one and only, my life. You are my everything. I love you.
From the first touch in the morning to the last kiss at night, I love every little romantic thing we share.
You're everything I always wished for, better than I dreamed of, all I'll ever need.
This is good for one romantic dinner for two. Save room for dessert — it's me!
Cuddling with you would be perfect right now.
I'm still wearing the smile you gave me last night.
Remember, the best thing to hold onto in life is each other. Don't let your feelings go unexpressed. Write a loving Valentine's Day message for him today.
~~~
As an editor, author, and longtime archivist of literary treasures, Caroline has over 30 years of experience in the social expression industry. Her childhood love of words led her to complete a B.A. and M.A. in English from the University of Dayton and author ten children's books for Golden Books and Disney. Caroline's beloved family and enduring friendships are the inspiration for many of the cards she writes.
Browse Our Collection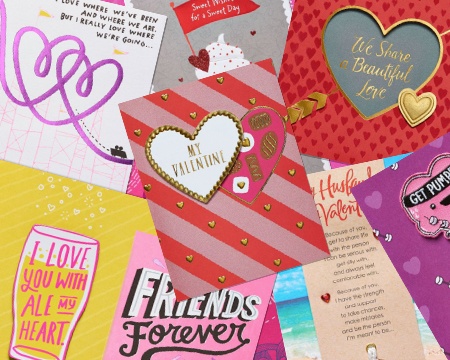 Beautifully crafted, keepsake-worthy cards express love in heartfelt ways.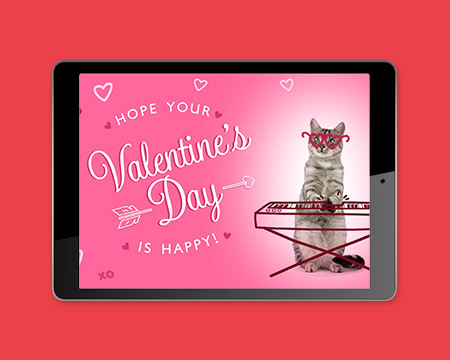 Personalized, interactive and animated valentine ecards are easy to send with love!​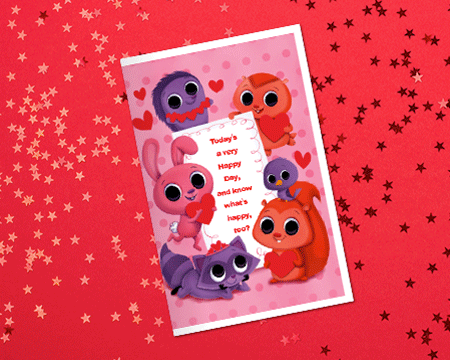 Create Happy Valentine's Day wishes you can personalize and print from home.​