Creative Thank You

Gift Ideas

Whether it's a neighbor who babysits on date night or a friend you can always count on, certain people inspire gratitude. Creative thank you gift ideas for friends, family, and other special people go beyond the obvious and show your appreciation in a cheery, personal way. Finding the perfect one takes just a little thought, and putting effort toward a creative thank you gift almost always makes the recipient feel extra-valued.
Words Of Appreciation
Nothing tugs the heartstrings like a handwritten letter expressing exactly how you feel. As long as the message is sincere and thoughtful you can't go wrong. Tuck it into a thank you card, or make your feelings public by posting a video of you expressing your gratitude on social media or in a personal message.
The Gift Of Ah…
Everyone appreciates the gift of relaxation. Say thanks to a hardworking volunteer with a basket of bath products that soak away stress — soothing Epsom salts and bubble bath made with anxiety-relieving essential oils like lavender, rose, vetiver, or ylang-ylang. Don't forget a few scented candles and a package of chamomile tea for tranquility at its finest.
Make Them Smile
Sometimes a good deed merits a public display of appreciation. Thank your assistant or a coworker for going the extra mile by decorating his or her desk or cubical with bright wrapping paper or balloons.
Ongoing Gifts
When you want to thank someone for day-to-day, long-term help — think caregiver, personal assistant, or nanny — consider giving a long-term gift, such as a monthly subscription service that delivers goodies on a regular basis. From makeup to cooking spices to footwear to audiobooks, there is a subscription service for nearly every interest. With each arrival, your recipient remembers your gratitude for the little things they do each day.
Gifts That Give Back
Sometimes the best way to thank someone who has a charitable heart is to give a gift that gives back. Make a donation to a charitable organization in his or her name. Donate money to your local humane society in honor of an animal lover, or donate supplies to your school's reading program in the name of your child's favorite teacher.
Memorable Events
For the person who prefers collecting memories and not things, an experience is the perfect thank you gift. From something as simple and budget-friendly as a pedicure to a pair of concert tickets, this is a gift that goes beyond the tangible. Be creative and think of something that the recipient has always wanted to do, such as go kayaking or learn to paint, and find a class or excursion to match.
Made By You
Everyone can call on some small or large crafting skills to make homemade thank you gift ideas come to life. If that seems out of your league, no worries. Try your hand in the kitchen and say thank you with food. Few people would refuse a tin of freshly baked cookies or homemade fudge. Or, gift a jar of your famous strawberry preserves or a bottle of freshly squeezed lemonade.
Pitch In For Something Pricey
When you're one of many people who want to say thank you to a special someone who goes above and beyond the call of duty, it's the perfect opportunity to go in together on something stunning. Whether it's a fancy espresso maker or an airline ticket, be sure to have everyone who chipped in sign a card so that the recipient knows how many people his or her hard work has helped.
Make It Personal
Personalized thank you gifts don't necessarily have to sport the recipient's initials. Think about the person's interests, hobbies, and likes, and tailor the gift accordingly. The handyman in your life may love a pair of new leather work gloves, for example. Your child's teacher may love to knit, so a skein of premium yarn may be just the thing. These gifts don't break the bank, but they do show your appreciation in a personal way.
Whether handmade, budget-friendly, or personalized, creative thank you gifts show your gratitude in a way that's memorable. Adorn your selection with pretty wrapping paper and bows to make the presentation extra special.
Thank You Ecards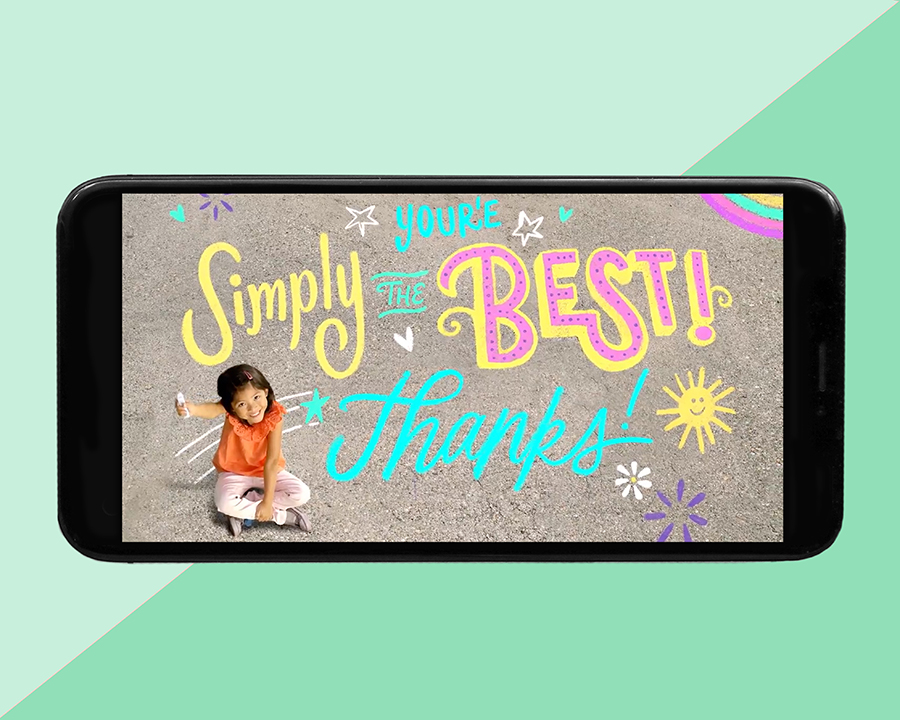 Showing gratitude strengthens relationships, improves health, and makes us happier – so many benefits wrapped up in a thoughtful ecard. Send thank you ecards
Thank You Notes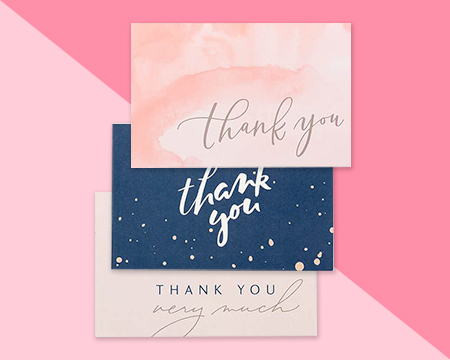 Thank those you love! Shop from the comfort of your own home for the perfect cards and make your loved ones happy all year. Shop thank you cards