Blue birthday party ideas
Sky blue, navy blue, robin's egg blue — there are plenty of reasons to like the color. It's inviting and cool, reminiscent of the ocean and reminds us of sunny, happy days. Maybe blue is the birthday guy or gal's favorite color, or perhaps he or she was born in a month with a blue birthstone (March, September and December).
In any case, a blue-themed birthday party is an easy, wallet-friendly way to celebrate another year older. We've gathered our favorite blue birthday party ideas so you can be equipped with the party supply essentials — and inspiration — for throwing your own blue-themed bash.
Say, "(blue) cheese!" with a photo backdrop.
Capture memories from your blue birthday party with a fun photo backdrop. We used varying shades of blue, white, and silver crepe paper to create ours. Make tissue paper pom-poms to adhere to the top of your backdrop, and place additional pom-poms on the floor to add dimension. Not only are the pom-poms inexpensive, but they're also really easy to make. (Check out our tutorial for tips!) We also added balloon clusters and trendy honeycombs to frame the area and provide even more texture.
Seat the birthday boy or girl front and center.
The guest of honor deserves the best seat in the house, so we recommend placing their chair near the card and gift table so they can easily open presents where everyone can see. (Tip: Make sure the gift table is visible from the party's entrance, or designate someone to run gifts to the right location.)
And speaking of presents, a well-wrapped gift is quite the attention-grabber and will make the birthday person especially excited to open it. We used reversible wrapping paper to create our "Double Fun" look, and created the super festive confetti gift wrap that you can easily create yourself, too — and even went a step further by adding a bow. If the thought of tying the perfect bow seems daunting, don't worry; we break down the process in this easy-to-follow tutorial.
A card basket is a great solution for keeping all those cards in one tidy place. Plus, it's an item that will get plenty of future use at any other parties you may throw. One of our uber-talented hand-lettering artists created the placard for this one that you can download for free here!
Pack a refreshing "punch" with a drink station.
Is it really a party without the punch? We don't think so! Keep the party theme alive by using a clear beverage dispenser to show off festive blue punch or lemonade. We recommend placing the dispenser on top of a crate (or another sturdy item) so that it's at the right height for guests to fill their cups without fumbling.
Don't forget the drinkware! Blue cups pair perfectly with color coordinated paper straws. We placed ours in a mason jar to really stand out. Add decorative elements like mini honeycombs and a mason jar of tissue paper flowers to round out the look.
Serve a variety of sweet blue treats.
Create an enticing food table with party-themed treats everyone will enjoy. We set out a platter of cake pops dipped in blue chocolate and topped with simple silver sprinkles. To complete the candy bar, we served blue, white and silver gumballs, dark blue rock candy sticks, and candy sticks in teal and silver.
Fill in any gaps on the table by adding mini honeycombs. Another way we carried the blue theme throughout the food table is with spray-painted mason jars in various shades of blue and silver. Inside we placed tissue paper flowers. Follow this tutorial and learn how you can easily make them yourself! The final touch to our food table was a birthday greeting card that we popped into a white frame for a sweet sentiment and touch of artistic décor.
The birthday cake steals the spotlight with a lovely ombré that fades from a light blue into a rich teal and features a pressed petal design. For a simple, cost-friendly added touch, we used a banner cake topper, handmade from bamboo skewers and scrapbook paper cut into triangles that we taped to silver baker's twine.
To frame the table and give the room a little more height, we used balloon clusters in the party's color theme. You can make your own custom confetti balloons with tissue paper in coordinating colors, a hole punch, and a funnel. To make the confetti, place the tissue paper between two sheets of regular computer paper for the cleanest cut. Stuff the balloons by placing a funnel into a clear balloon's opening and push the confetti through using the eraser of a pencil. Blow up the balloon and voila!
The best part about a candy bar? Your guests won't leave the party empty-handed. Use sticker paper and our free printable watercolor design to adhere to cellophane candy bags. It adds both flair and function, serving as a sticky closure so you don't end up with gumballs all over the floor.
Dress up the dining table.
A simple white plastic tablecloth is the perfect canvas for added color and décor. We used a runner cut from our blue and white striped wrapping paper on both the food table and dining table. To recreate this, simply use one roll of wrapping paper and cut down the center of the roll. Place one half on one table and the other half on the other, and you have two well-dressed tables for the cost of one roll of wrapping paper.
Jazz up glossy blue paper plates with silver chargers, and adorn each plate with a gift box that includes your party favors. Ours are wrapped around the center in curling ribbon and tied in a bow. We completed the party favors with our free printable "Thank You" circle tags in a blue water color design. (Tip: If your party favors are in gift bags, print the tags on sticker paper and adhere to the front of the bag.)
The centerpieces are 32-ounce mason jars with the same tissue paper flowers we created for the food table. The great thing about mason jars is that they can easily be repurposed and repainted for different parties and uses. Plus, they're affordable, trendy and versatile.
You can also create these tissue paper votives to offset the centerpieces and carry the party's theme across the length of your table.
Everyone might feel a little "blue" when the party comes to an end, but they'll surely leave with fond memories, great photos and sweet treats. And you can rest assured you threw a true blue bash that saved you plenty of green!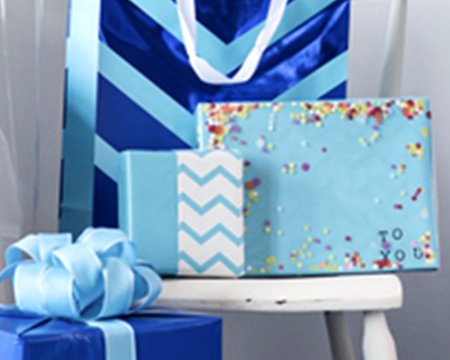 Gift packaging
Dress up your gift! Create the perfect gift presentation with fun and fashionable gift bags, tissue paper, bows and more!
Shop gift packaging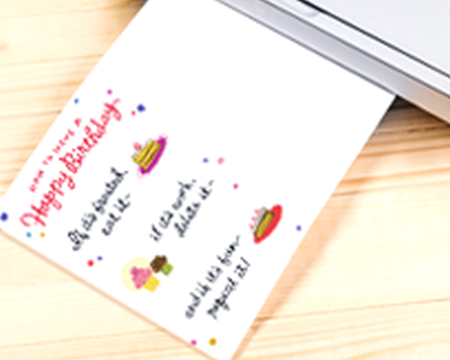 Print at home
From your printer straight to their hearts! Print your own cards anytime, right when you want them. Add photos, fun art, and more to make it one-of-a-kind.
See more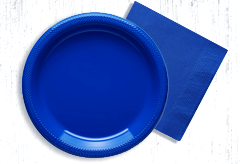 Party supplies
Celebrate birthdays with all their favorite characters in tableware, room decorations, party favors and more! Find the perfect party supplies from the comfort of your own home.
Shop party supplies
More Celebration Inspiration
Discover more fun and creative ideas