DIY Party Decorations And Favors:
Confetti Party Hats
Here's
what You'll Need:
Tissue confetti
Craft glue/sealer
Foam brush
Paper hat
Flip any party hat inside out, tape down the seam and re-attach the elastic string.
Starting at the top of the hat, apply the craft glue with a foam brush in sections, working your way down the hat.
Apply the tissue paper confetti to the hat by tapping them on to the areas where you have applied the glue. Overlap the confetti slightly and reapply the glue as you move towards the bottom of the hat.
When you reach the bottom, apply a thin edge of glue inside the inner rim of the hat and tuck in any ends of the tissue paper confetti that hang off of the hat. Leave the hat as-is for a textured, handcrafted feel or coat the entire hat in craft glue to give it a shiny, finished look.
Tissue Paper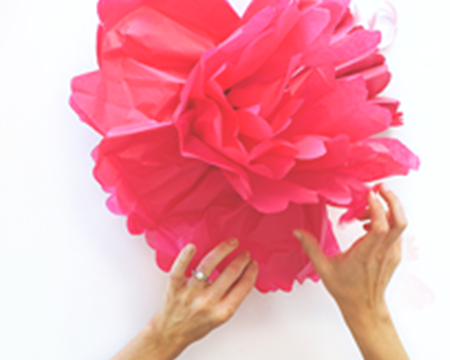 Tissue paper's not just for presents anymore. Create party décor, favors and more, then mix and match it with bags and gift wrap for the ultimate wow factor. Shop tissue paper
Party Ideas And Inspiration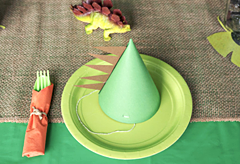 Easy party planning starts here. When choosing a theme and decorating, use these creative DIY tutorials and craft ideas that are easy to pull off while being budget friendly. We'll help you get that party started! More party ideas
DIY Gift Ideas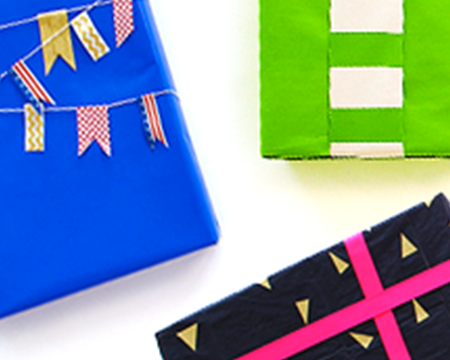 Find unique and different gift ideas for anyone and any occasion, along with more gift wrapping tutorials full of neat tricks to keep up your sleeve. (We won't tell.) More DIY gift ideas
More Celebration Inspiration