One of the perks of being the office's resident party planner is getting the opportunity to try out a bunch of super-fun party supplies for free!
This time, I got some brand new TMNT party supplies. (So, of course, I had to try a few Teenage Mutant Ninja Turtles DIY projects as well.) As you can tell, my boys were pretty excited that I took on this project!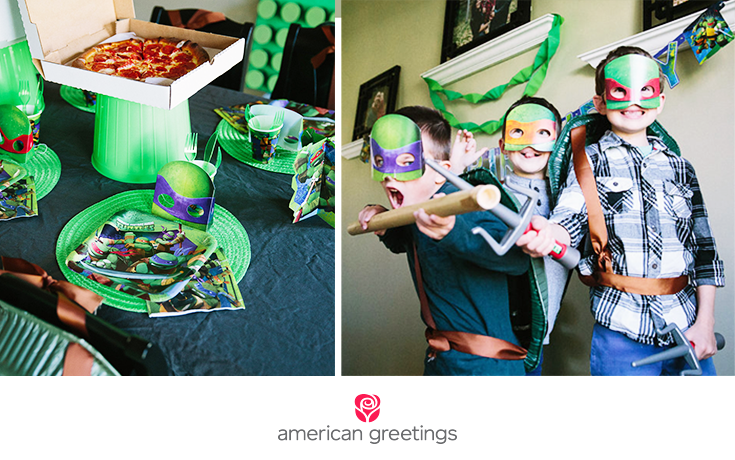 Before I started planning the Ninja Turtle decorations and games, I made personalized Teenage Mutant Ninja Turtles invitations.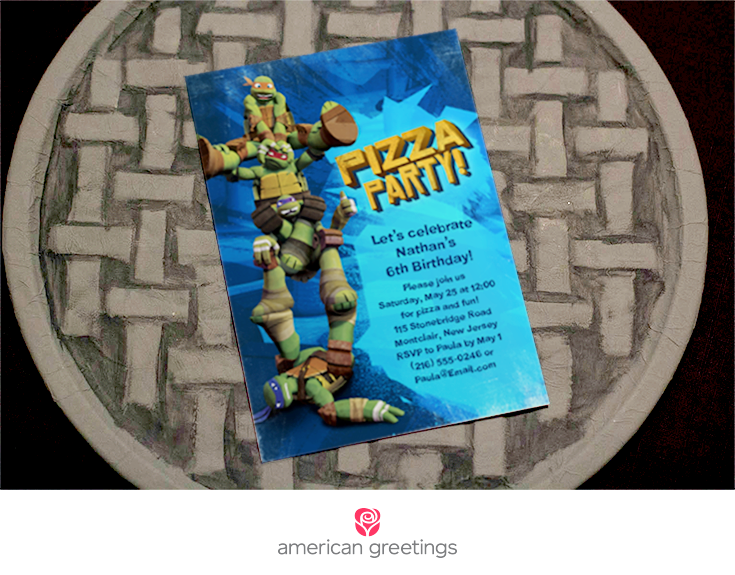 Ninja Turtle
decoration ideas
Decorating was as easy as a 4-on-1 fight with the Teenage Mutant Ninja Turtles table decorating kit, TMNT masks and a TMNT Happy Birthday Banner!
I covered the table with a grey tablecloth I had lying around, and picked up round, green place-mats that worked well with the TMNT plates, napkins and cups. Upside-down green pails were used as pizza stands.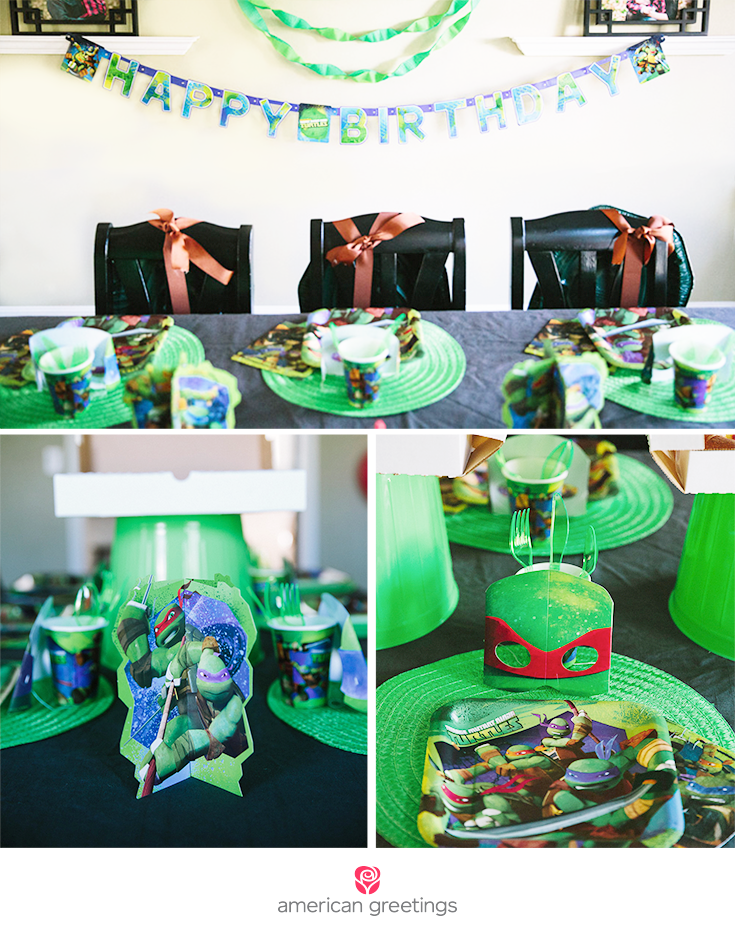 What's a Ninja Turtle party without some Ninja Turtle shells?! I found this DIY TMNT turtle shell tutorial and hung the shells off the chairs to add to the decorations. Once the little turtles were shelled, they were ready to test their Turtle Power!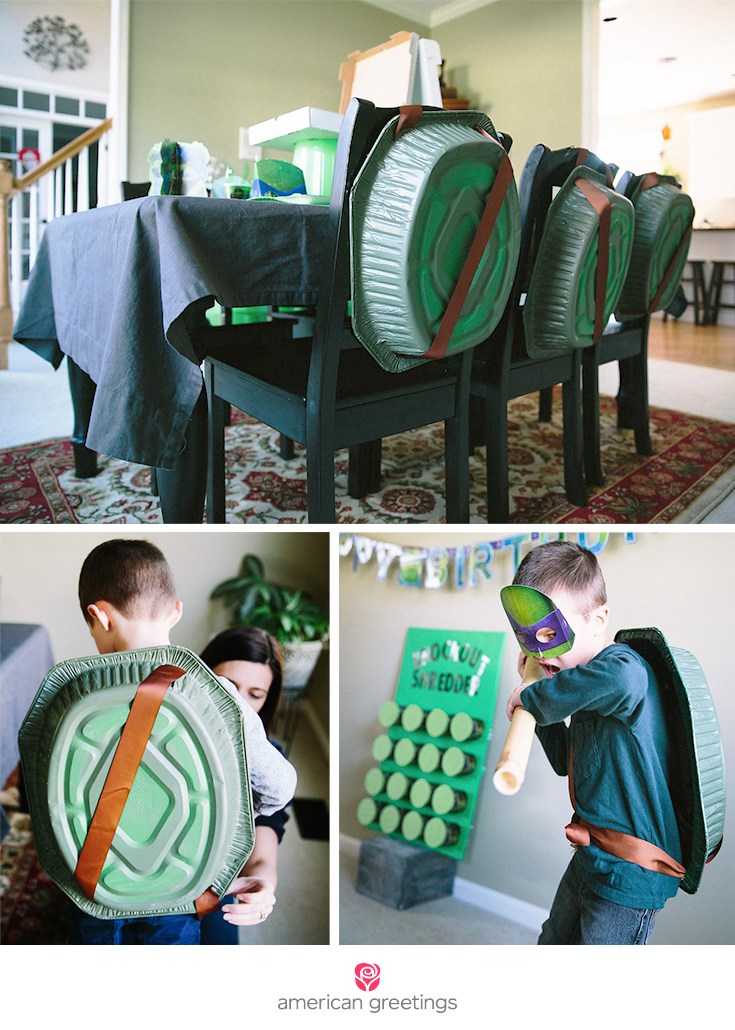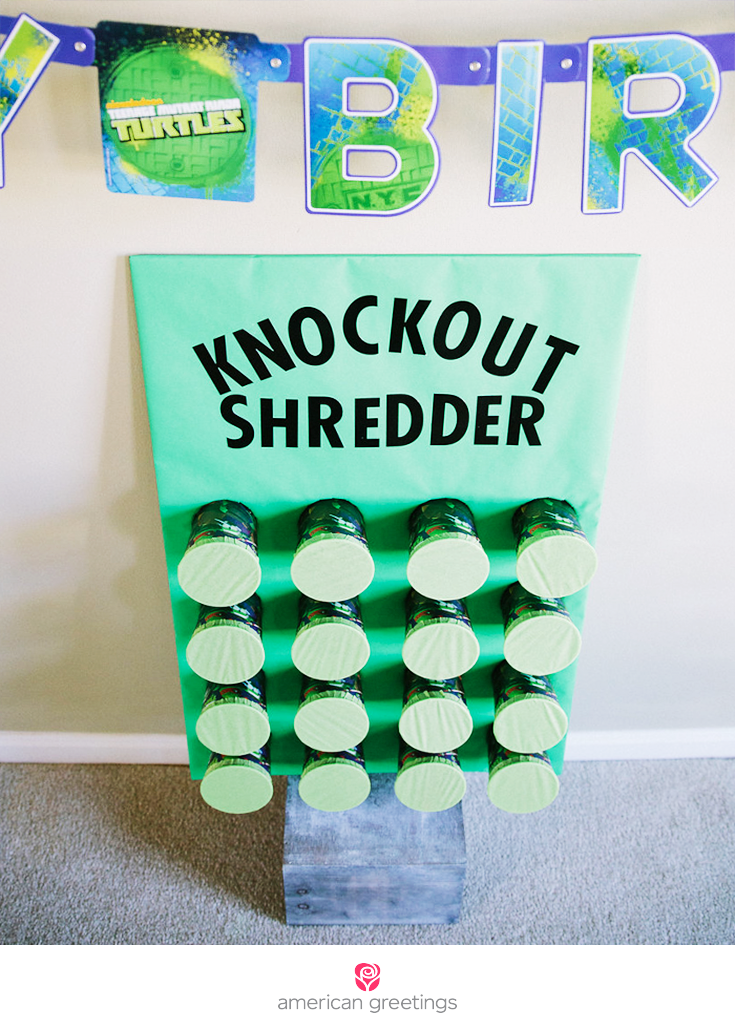 Ninja Turtle
party games
I used Teenage Mutant Ninja Turtles party cups and filled each one with a TMNT bracelet, TMNT button, or Ninja Turtles disc shooter. The kids practiced their punching (because, you never know when Shredder might attack) and got some fun prizes in the process!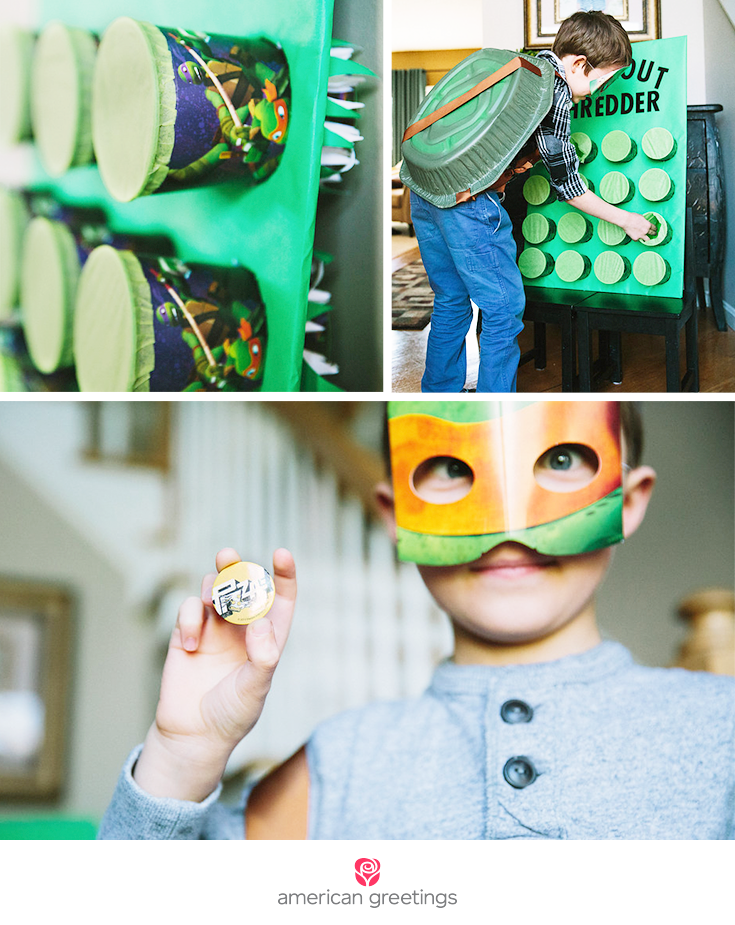 Next up was TMNT target practice, and the setup couldn't be easier!
When I called to place our pizza order (because, naturally, a TMNT party should have pizza), I asked for an extra pizza box. Next, I taped one of the Ninja Turtles characters from the table décor kit onto the inside of the box top. My little turtles were ready to use the TMNT disc shooters they just scored from the Knockout Shredder game! (The object of the game was to have the turtle "catch" the disc and land it in the box.)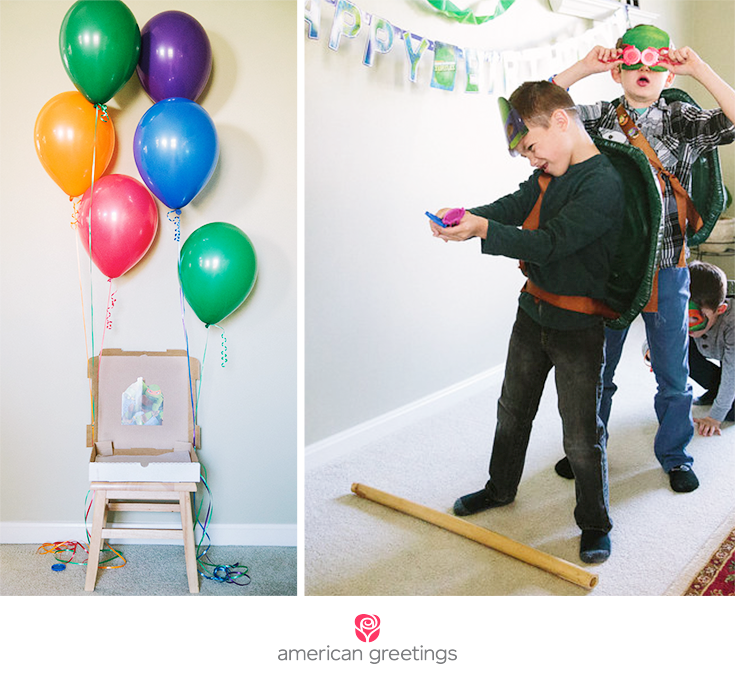 I ordered cupcakes from our local grocery store and added DIY turtle toppers I made using the confetti that came in the table decor kit. I found instructions to make sewer manhole covers, and used that to display the cupcakes and "dirt" desserts. I put other sweets (in TMNT colors, of course) in galvanized tins and empty cans, while "Sewer Ooze" (green apple Kool-Aid) was the drink of choice to wash all of our treats down.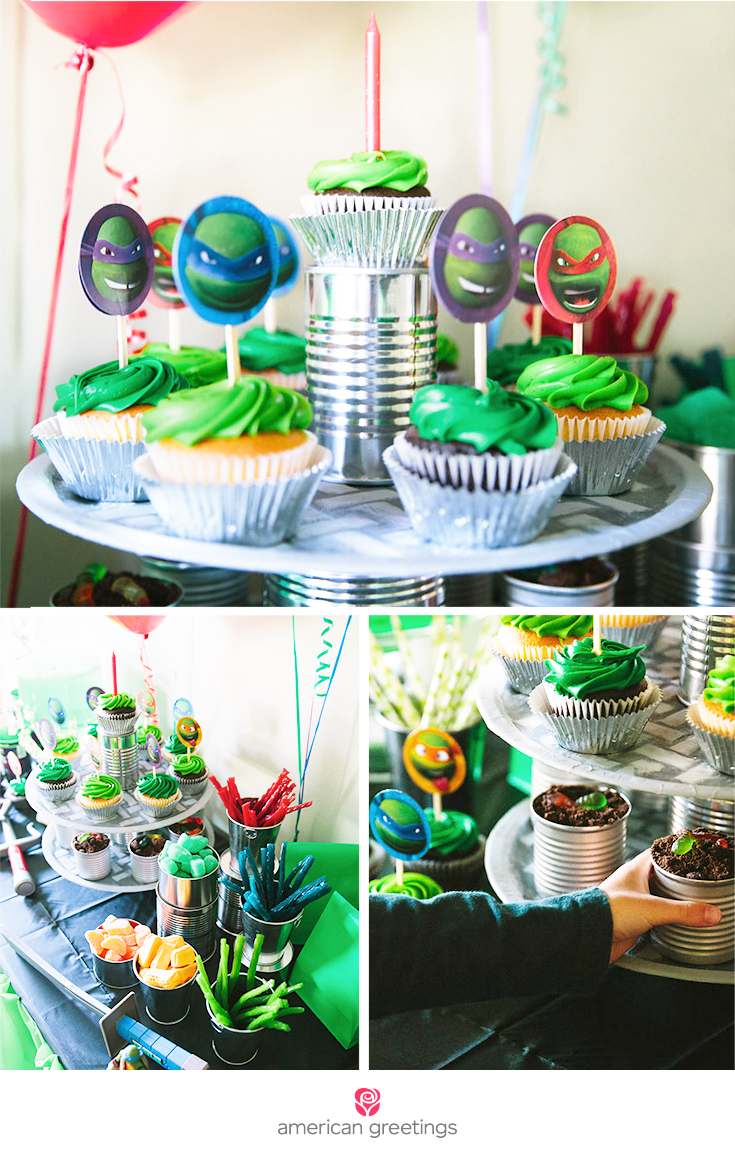 The kids LOVED the Teenage Mutant Ninja Turtles party supplies, and I had a blast combining them with my own DIYs.
Feel free to let me know if you have any questions, or even some Ninja Turtle party ideas for your OWN section of the sewers!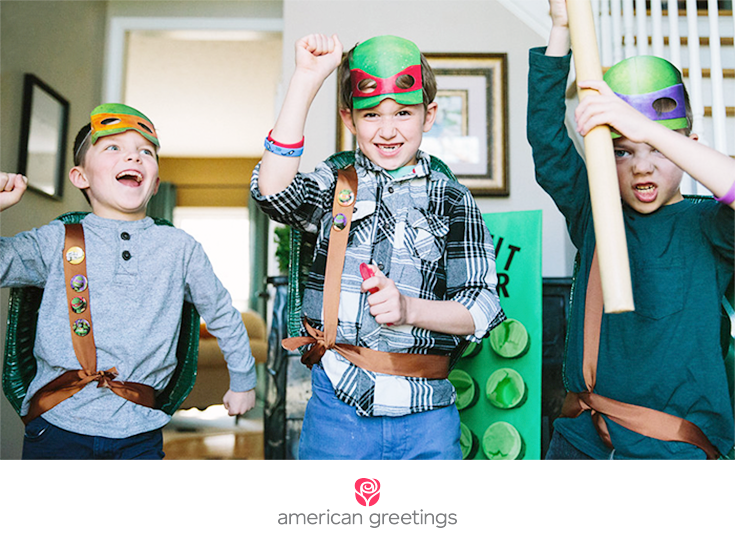 As a famous turtle once said… COWABUNGA, DUDE!
Elizabeth
Although Elizabeth is a party-planning extraordinaire, her biggest love is for her family, complete with her hubs, 5-year-old twin boys, and their pup — all of whom love camping, swimming, biking and being super silly!