Pink And Gold
engagement Party

Ideas

She said "yes!"

And now it's time to celebrate!

If you're looking for engagement party theme ideas, consider hosting a pink-and-gold party. With its bright pops of flirty pink and glamorous gold, this popular palette is just perfect for celebrating love!

Not sure where to start? We've compiled lots of ideas and tutorials below, as well as shopping resources, so you'll be able to throw your own fabulous post-proposal celebration with ease.
Beautiful Balloons
Let's start with décor!
Clusters of colorful balloons give any party a fun and festive feel. To create this look, combine pink, gold, and clear balloons. You can even make confetti-filled balloons to add extra flair! Simply use a hole punch to create confetti pieces. (TIP! To get the cleanest cut with the hole punch, place your tissue paper between two sheets of regular computer paper.) Then place a funnel into the end of a clear balloon and push the pieces through using the eraser end of a pencil. Blow up and add a ribbon before placing your balloon bouquets around the room.
Gift Table And Chair
A basket for cards not only looks cute, but it can also become a special keepsake for the guest(s) of honor! Create a sign that lets party go-ers know to add their cards to the basket. We had one of our lettering artists create this simple, sophisticated sign for our party's card basket, but you can be as creative as you'd like and consider fun phrases like "wishes for the soon-to-be Mr. & Mrs."
A special seat for the bride-to-be can also double as the perfect place for guests to stack their gifts during the party. (Add two chairs if it's a couple's engagement party.) Be sure to arrange the chair(s) in a place that allows the guest(s) of honor to comfortably open gifts where everyone can see. (Tip: Have the chair or gift table easily visible from the party's entrance, or choose a designated 'gift runner' to put gifts in the right location.)
Time For Drinks
You can spotlight this sweet treat and serve it in style by placing it in a clear plastic or glass drink dispenser and sitting it on top of a white crate (which makes it the perfect height for guests!).
You can also get plastic martini glasses and line the rims with edible gold glitter for a little extra glitz and glam!
Food Table
For the food table, consider using gold mylar balloons to make a statement! Ideas: "SHE SAID YES," "CONGRATS," "LOVE," or even something simple and celebratory like "PARTY." Be creative! String the letters on white-and-gold bakers twine. (Mylar balloons are re-usable, too, so no helium is necessary!)
In addition to our polka-dotted cake, we decked out our dessert table with a pink-and-gold "candy bar" for guests; choosing treats that matched the theme (like vanilla sugar wafers, clear rock candy sticks, pearl white Sixlets, and pearlized pink, gold, and white gumballs). (Are you hungry yet?!) We also included a few pastel pink cake pops (because who doesn't love a cute cake pop?!).
We displayed each sweet treat in a glass candy dish and included little bags that each guest could fill with the treats of their choice.
You can even consider printing customized stickers for guests to use to seal their bags shut, but if you need a quick go-to, grab ours here.
A cute sign adds a playful and memorable finishing touch to the table. For ours, we framed one of our favorite engagement cards to help emphasize this OMG moment!
Dining Table
To create this lovely luxe look on a budget, we chose a pretty pintuck fabric for the table cloth and then folded the ends under and pressed it down with fabric tape (no need for a sewing machine!). We then layered our classic white party plates over large gold charger plates. Gold was the perfect color choice to contrast against our bright pink table cloth and crisp white plates.
We also added little gold "Thank-You" boxes to the center of each place setting. They not only add visual interest, but they're a sweet way to thank guests for being a part of the day. Tuck something special inside each box and wrap blush pink or white curling ribbon around each one. Secure the ribbon with double-sided tape and top the boxes with our "Thank You" tag that you can print here.
For our table centerpieces, we spray painted 32 oz glass Ball jars in shades of metallic gold and blush pink. We then filled each one with beautiful tissue paper flowers. The effect is both whimsical and sophisticated.
Tissue Paper Pom-pom Photo Backdrop
And finally, don't forget that perfect photo-opp for guests to capture all the fun!
This paper pom-pom backdrop won't disappoint! (And bonus: it's super affordable!) To make one of your own, pair different sizes of pink, gold, and white tissue paper pom-poms and honeycomb balls against a crepe paper waterfall of pink, white, and gold. Add balloons to each side for an extra punch.
We hope you're feeling inspired to create a pink-and-gold party of your own! It's such a beautiful palette for highlighting this exciting occasion. Have fun, and happy celebrating! :)
Wedding
gift Wrap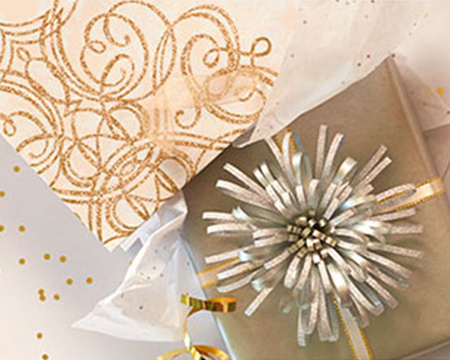 Dress up your gift with love! Create the perfect gift presentation with fun and fashionable gift bags, tissue paper, bows and more! Shop wedding gift packaging
Gifts

for The Couple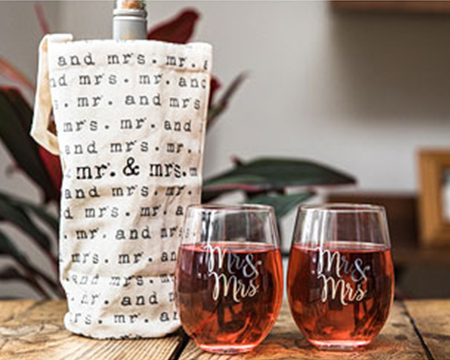 Whether you're looking for formal ideas or want something unique and fun, you'll find it here. Explore and enjoy your quest for celebrating this meaningful occasion. Cheers to love! Shop wedding gifts
White
party Supplies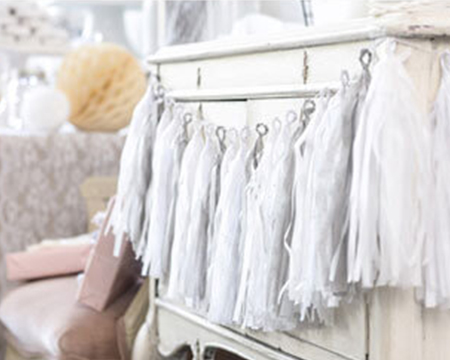 Celebrate weddings and bridal showers with tableware, balloons, party favors and more! Find the perfect party supplies from the comfort of your own home. Shop white party supplies
More Celebration Inspiration