Outdoor rainbow themed

birthday party ideas
My dear friend Brittany was turning 28 years young this past September, so I decided to throw her an outdoor rainbow birthday party brunch. We definitely wanted to leverage the lovely weather we were having, but this bright and sunny birthday party theme can work all year 'round! I had a blast planning and executing this party in a nearby park, and this Dots & Stripes Party was the perfect theme to showcase Brittany's bubbly personality. In this blog you will read about my set-up and links to affordable DIY projects to match the party. Don't forget to download the free rainbow birthday party printables to help you make this party as easy for you as it is fun!
First thing's first — after I locked down the location, date and time — I had to get the invitations out to our girlfriends. Then the fun part — the party planning begins!
The plates, napkins and cups were an easy set-up and coordinated awesomely with each another. I thought it would be fun to design matching free printable napkin wraps and printable personalized name tents to make the party-goers feel welcomed. So I used a couple rolls of wrapping paper for some corresponding touches. The green roll of wrapping paper served as a table runner on the picnic table (don't forget tape — winds can kick up any time at outdoor events!) and a blue roll of wrapping paper went around some old soup cans to use as flower jars. These modest additions really helped make the pieces pop off the table!
I wanted to create a dramatic backdrop for the treat table without breaking the bank or having to follow any excessively hard tutorials. So I used white tissue paper and constructed this awesome DIY Tissue Backdrop (courtesy of Lovely Indeed!) for a really nice touch for a relatively low cost, which is always appreciated. I also bought some additional colored tissue paper and made these fun DIY Tissue Fans (courtesy of Domestic Fashionista!). Luckily, the Dots & Stripes Party Supplies has a great room decorating kit that is jam-pack full of pieces that can be used in really any way you see fit. I placed a couple of the paper cutouts over the fans, to add some birthday flair. And finally connected the happy birthday party banner from the tissue backdrop above the picnic table to unify the seating and treat areas.
And what's a party without all eyes on the guest of honor, right? The birthday girl herself deserves a little flair, too! And this happy birthday sash was a totally-worth-it purchase. To compliment it, I found this cute DIY Tissue Headband tutorial from Studio DIY and put more of my beautiful rainbow of tissue paper to good use as an amazing fascinator. I doubled the free printable personalized tent cards I designed as food labels so everyone knew exactly what they were diving into (a perfect solution to clarify ingredients, too, if you have any guests with food preferences or allergies).
If you're a donut lover in the Cleveland area, you probably know the legendary Brewnuts™! To match the party, I ordered a custom baker's dozen to fit the theme and they were absolutely delish! I had also bought this cupcake stand before I decided to go with donuts, but it ended up being a perfect centerpiece to showcase these beauties.
As the eating, drinking, and overall merriment was coming to a close, I still wanted to give a little shoutout of thanks to the ladies that came out to celebrate the birthday girl. So I found a delicious looking Cranberry Lime Vodka Recipe from Fancy Napkin Blog I prepared ahead of time, and jarred it so guests could take home a little toast of thanks to them! Cranberries weren't in season, so I substituted grapes. You can pretty much add any fruit to any vodka, and as it sits in the jar, magic happens regardless of the combo. I then designed free printable thank you labels to spray-mount onto the jars so everyone knew to grab on their way out. What better way to say thanks then a take-home-toast? (I had many good praises on this thank-you gift!)
The birthday brunch was a success! With all the work done easily upfront, we had a great time catching up over tasty treats and beverages while celebrating our amazing friend Brittany. Overall, this rainbow birthday party was a lot of fun to put together — and it was surprisingly easy while also affordable with the help of the do-it-yourself tutorials and the free printables. Needless to say, now that I've seen how much the guests enjoyed the event, I can't wait to throw the next party!
Rainbow birthday party

free printables:
Creative gift ideas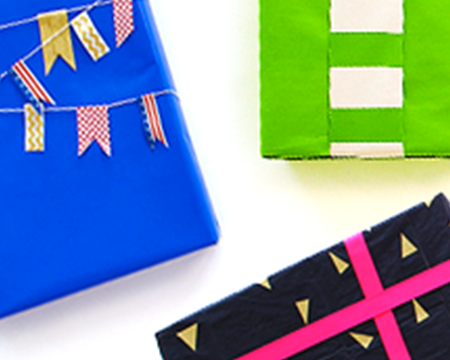 Find unique and different gift ideas for anyone and any occasion, along with more gift wrapping tutorials full of neat tricks to keep up your sleeve. (We won't tell.)
See more
Shop all of our gift wrap online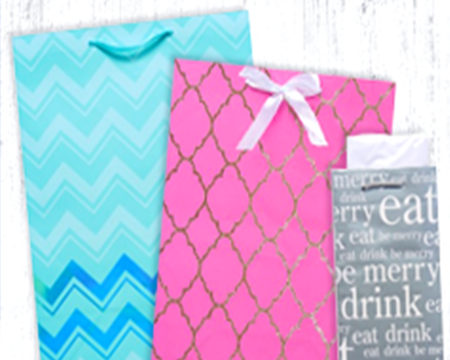 Let's be real. The colorful paper, tissue, bags, and bows are half the fun of receiving gifts, so be sure to keep some on hand. Shop easily from home and we'll deliver straight to your door.
More gift ideas
Tissue paper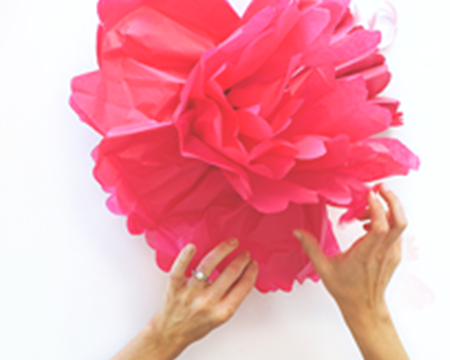 Tissue paper's not just for presents anymore. Create party décor, favors and more, then mix and match it with bags and gift wrap for the ultimate wow factor.
Shop tissue paper
More Celebration Inspiration
Discover more fun and creative ideas