An all-white bridal shower, that's equal parts elegant and shabby chic, is a stunningly stylish way to celebrate a beautiful bride-to-be!
You can achieve a gorgeous, upscale look on a budget by choosing the right colors (white, ivory, silver, and a hint of peach), layering textures (burlap, lace, a touch of shiny Mylar and tissue paper) and learning the tips and tricks of how to stage the scene. This style isn't about being matchy-matchy, but instead light and layered, which creates an elegant feel.
Welcome!

Can I Take Your Coat…and Gift?

Since the guests will need a place for their presents as soon as they arrive, it's best to have the gift table visible from the door (or assign someone to be the gift runner).

You will not only need a fairly large space for gifts (some wedding presents are big!), but the bride-to-be will need to access it fairly easily when she opens her gifts. Choose a place that can be seen by everyone in the room. If the chairs at your venue aren't comfy, then it's a thoughtful touch to bring a special one for the guest-of-honor since she'll be there a while. And it's also where many of her pictures will be taken, so a cluster of balloons is a nice touch to the background.

To avoid the chance of cards getting lost in the crowd of presents, it's a good idea to label a basket for them (either your own or a keepsake you'll give to the bride).

Our talented lettering artists made this lovely sign, but you can find fabulous fonts on your home computer to easily create your own.

And speaking of your own creations, if you've ever wished you were a better gift-wrapper or knew how the pros do it, be sure to check out our easy tutorials – such as how to tie a bow and other helpful DIYs.
Picture Perfect

Setting

Bridal showers are wonderful photo opps for family and friends who don't often get together. Give them great place to gather and pose by providing a special spot with a pretty background. We created this backdrop by hanging various shades of white and ivory crepe paper and accented it with rolls of lace and tulle, honeycombs, and tissue paper pom-poms . With tissue paper, these pom-poms can be easily customized (we used white, silver and white/silver sparkle) and made in various sizes, which add unique and stylish texture. We also taped silver Mylar "I DO" balloons (they don't need helium, you just blow them up with a little straw) to the backdrop with loops of regular tape.

(Tip: Since many parties don't have adorable backdrops like this, you may want to put someone on picture duty to capture fun shots of the bride, bridal party and guests posing in front of it.) Gather groups, snap some shots, and make sure everyone gets a picture with the bride. After all, memories are our greatest gifts!
Time For A
drink

And Take Your

seat!

Lemonade with freshly-cut lemons in a clear drink dispenser sets a festive stage at beverage table. The white crate gives the drink dispenser height and places it at just the right level for guests to fill their cup without fumbling. Fanned napkins, matching cups, and color-coordinated paper straws in a mason jar help complete the overall look.

While it's pretty to trim the table with tissue paper tassel garland (these were made using white, silver and white with silver sparkle tissue paper), a balloon bouquet next to the table is an equally festive option to draw attention to the drink station (and is a lot less work for the party planner).

This is where the magic of layering comes in! For the dining table, we chose a simple plastic table cover and a burlap runner topped with an inexpensive roll of lace gives this a luxe feel without having to rent table linens. The centerpieces are 32-ounce mason jars spray-painted in matte chalk paint in white, silver, and a pale primer color. Inside them we placed tissue paper flowers which can be a much more economical alternative to fresh blooms. The smaller jars were made by purchasing battery powered fairy lights and hot gluing the battery pack into the lid of a mason jar. This gives them the feel of a lit candle. They are adorable when turned on…and also make great party favors for guests to take home.

Simple silver chargers jazz up a glossy white paper plate and set off the table. The gift box is a craft paper pillow box wrapped in lace. We then created a free printable circle "Thank You" label that you can print on sticker paper and stick on top. The silverware was rolled in a paper napkin and tied with twine for another shabby chic touch.
Food

Table

Texture isn't just limited to the decorations. Food can be stylish, too! We surrounded color-coordinated treats with balloon clusters to make this table even more appetizing.

Silver Mylar balloons that spell "I DO" were taped to the wall, and think about placing dishes at different levels to not only make them more easily accessible, but it'll add to the overall appeal.

The cake is a lovely ombre' that fades from ivory into the palest peach using a thin piped ribbon design. The banner topper can be easily handmade using bamboo skewers strung with baker's twine and mini tissue paper tassel.

Our "candy bar" features food that matches the theme: vanilla sugar wafers, white rock candy sticks, silver candy sticks, white powdered donuts and yogurt dipped pretzels.

We also have a free printable that says "I Do in a watercolor design that can be printed on sticker paper and applied to candy bags (or anywhere else you choose).

Cupcakes are a great way to add variety to the dessert choices, especially if they're a different flavor than the cake (some people might prefer chocolate to vanilla or vice versa). We added Tissue Paper Fringe Cupcake Toppers for a fun, festive touch…which also adds more texture to the display. Remember: Not everything has to be gourmet or homemade. White powdered donuts carefully stacked on a cake plateau take an inexpensive grocery store find into an elegant snack.

And to dress up the whole table even more, we attached a banner on the front of the table made by cutting triangles of scrapbook paper and taping them onto silver baker's twine. The variety of patterns and shades of white/ivory give it a similar feel to the rest of the party.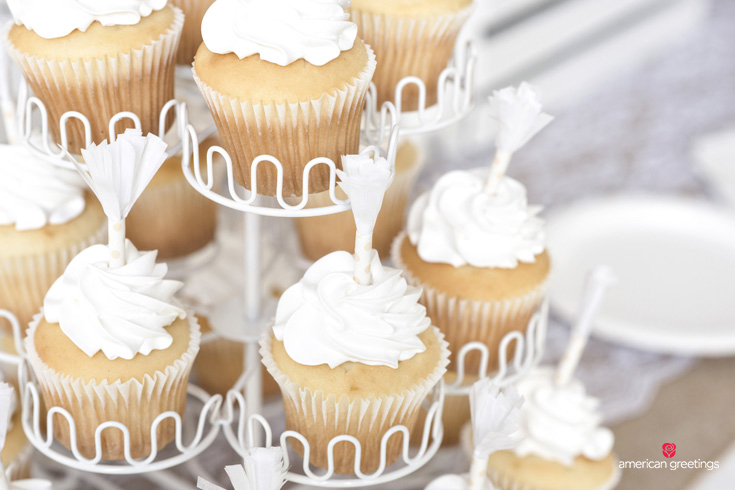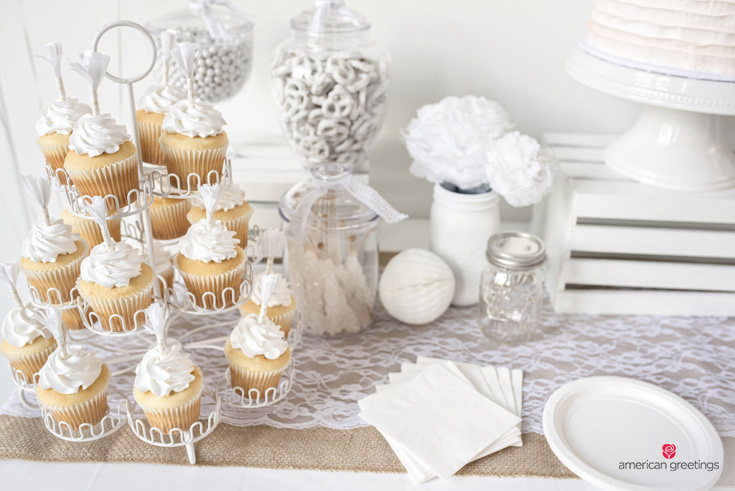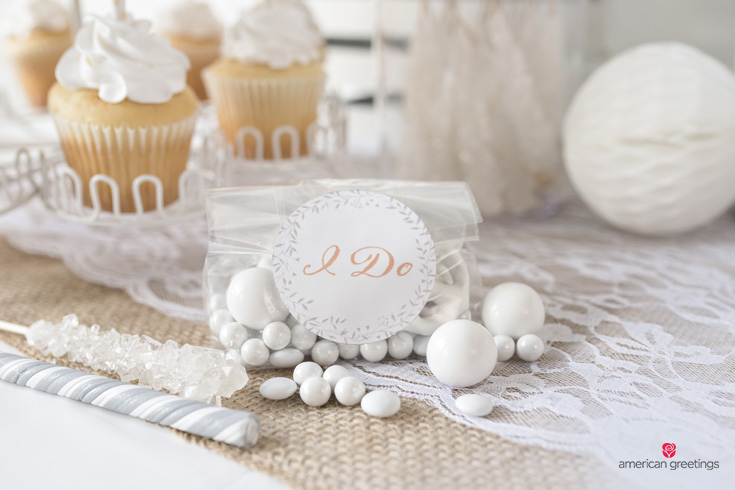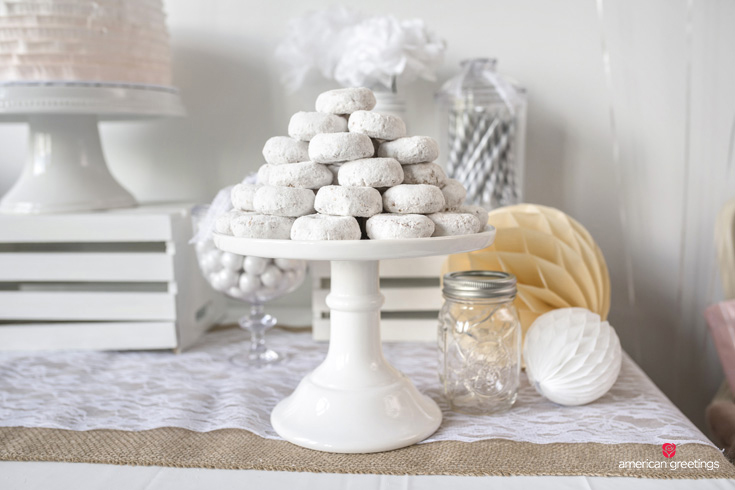 It's All In The
details
An easy way to tie the whole room together is to duplicate details and textures on different tables.
Clusters of balloons either on or near the tables give height to the room and add a festive vibe, for very little cost. If you don't want to use helium, you can hang them from the ceiling with tape or ribbon. Make customized confetti balloons by using hole punches of coordinating tissue paper colors. (Tip: Place the tissue paper between two sheets of regular computer paper when you use your hole punch in order to for the cleanest cut.) Stuff them by placing a funnel into a clear balloon's end and push them through with the eraser side of a pencil and then blow up the balloon.
Totally
do-able!
As promised, you can easily create a stunning all white bridal shower like a total pro with our simple tips, a reasonable budget…and a lot of texture.
Extra tissue paper balls for the floors or on tables give a pop of color. Mason jars can be reused or re-painted for different parties. The 32-ounce size is super versatile and makes for great centerpieces, silverware and straw holders, etc.
Also, framed greeting cards throughout the room fill empty spaces with warm wishes that make great keepsakes.
No matter what, it's going to be a wonderful day. But what a lovely gift for bride-to-be to give her a celebration, all dressed in white, that's almost as gorgeous her…as she begins the beautiful journey toward her happily-ever-after!
Wedding
gift Wrap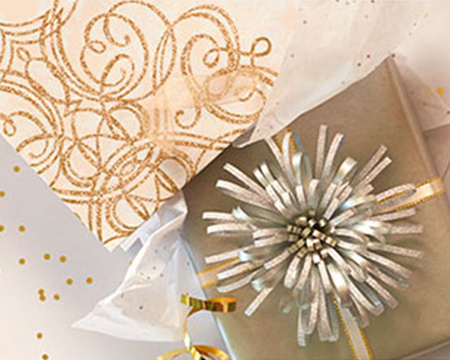 Dress up your gift with love! Create the perfect gift presentation with fun and fashionable gift bags, tissue paper, bows and more! Shop wedding gift packaging
Gifts

for The Couple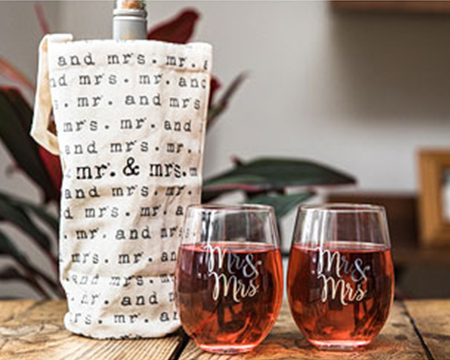 Whether you're looking for formal ideas or want something unique and fun, you'll find it here. Explore and enjoy your quest for celebrating this meaningful occasion. Cheers to love! Shop wedding gifts
White
party Supplies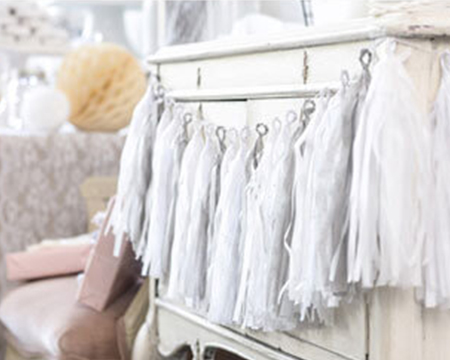 Celebrate weddings and bridal showers with tableware, balloons, party favors and more! Find the perfect party supplies from the comfort of your own home. Shop white party supplies
More Celebration Inspiration