Washi Tape Nautical Banner

Tutorial

Having a stockpile of solid wrapping paper is great because with just a few craft supplies, you can give it a really great personalized look.

Know someone who rocks the nautical look? This washi tape pennant banner takes just a few extra minutes and no specialized skills to pull it off.
Here's What You'll Need:
A wrapped gift
Tape
4 different kinds of coordinated washi tape (we selected two different golds and two red/white patterns)
Gold baker's twine
Scissors
First, we add the twine to the gift box. Starting from the back of the gift, tape the bakers twine onto the package, moving from high to low areas of the gift. (Pro tip: Leave extra length of twine sticking out from underneath the tape. You can pull it tight after you've attached your banners and cut off the excess when you're done.)
Repeat in the opposite direction, moving from low to high on the gift and then a third strip of twine across the middle.
Cut strips of washi tape and attach them to the package, sliding them through the bakers twine and press them together, but don't press them firmly to the twine just yet — leave some room to slide them around and adjust as you add additional banners.
If you have at least 4 different types of washi tape (that seems to be the magic number to make this project look good!), move through each type of washi tape and create 1-2 banners of each before you move on to the next type of tape. We used a solid sparkle tape and pressed them together to make one double-width flag.
Tighten up the strings on the back of the package, adding additional tape as you deem necessary.
You then slide each pennant to where you want them on the twine and press them to their final position.
Then trim the bottoms — some flat, some cut into inverted V's, some at a point, and some at an angle — the variety looks great!
And there you have it — a cool nautical flag look that really stands out for a birthday, baby shower, or other special occasion!
Still need some extra help? Watch our full video tutorial below:
Reversible Wrapping Paper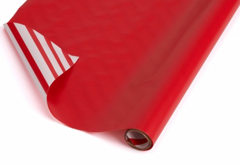 Now that you've seen the video, use our reversible wrap and give the technique a try yourself! Your recipient will appreciate your cool looking presentation.
Shop reversible wrap

Gift Wrap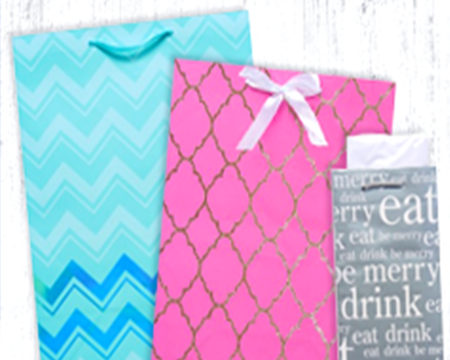 Let's be real. The colorful paper, tissue, bags, and bows are half the fun of receiving gifts, so be sure to keep some on hand. Shop easily from home and we'll deliver straight to your door.
Shop gift wrap

Creative Gift Ideas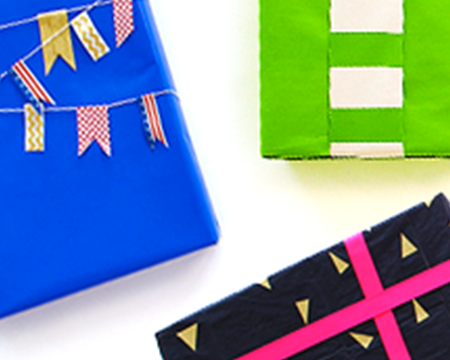 Find unique and different gift ideas for anyone and any occasion, along with more gift wrapping tutorials full of neat tricks to keep up your sleeve. (We won't tell.)
See more
More Gift Wrapping Instruction