The first Holy Communion is a significant milestone in Christian tradition and an especially exciting time for girls and boys who are preparing to receive this holy sacrament.
So how do you appropriately mark the occasion? We've got you covered with these easy, creative, and — most importantly — meaningful first communion gift ideas.
Book

of

blessings

A unique, yet simple way of acknowledging the occasion is with a handmade "book of blessings" – in other words, a templated scrapbook that the boy or girl can personalize with pictures, drawings, and notes that represent everything for which they're grateful. Here are a few ways you can get started:

1. Purchase a blank scrapbook from any craft store and title some of the inside pages with different themes. For example, "My Family" or "My Friends. Leave spaces for the child to glue photos that correspond with the theme, or create a writing prompt such as my family is a blessing because…

2. If you'd like, devote a section to documenting notable moments within their religious journey. Maybe that means adding all the first communion greeting cards they receive, or space where they can write about what they're learning in Sunday school. You could even scatter in some inspirational, uplifting bible verses or prayers.
3. Complement the book with fun sticker packs, scrapbook paper, and colored markers he or she can use to make the book their own.
Let your imagination run wild with this gift idea! Kids will love adding their own creativity to the scrapbook while remembering the blessings that matter most in life.
A
themed party
If you're going to throw a party anyway, why not go the extra mile and make it extravagant? Believe it or not, there are tons of affordable ways to host a party that's worthy of a Pinterest board.
Consider celebrating your little one's first communion with a white-themed party. White symbolizes purity, which is why the color is worn for baptisms and first communions.
From photo backdrops and balloons to cake toppers and tissue paper pompoms, take a look at some of the party supplies we used to set the scene. (We created this party with a birthday in mind, but you can easily make it a first communion party by adding religious motifs.)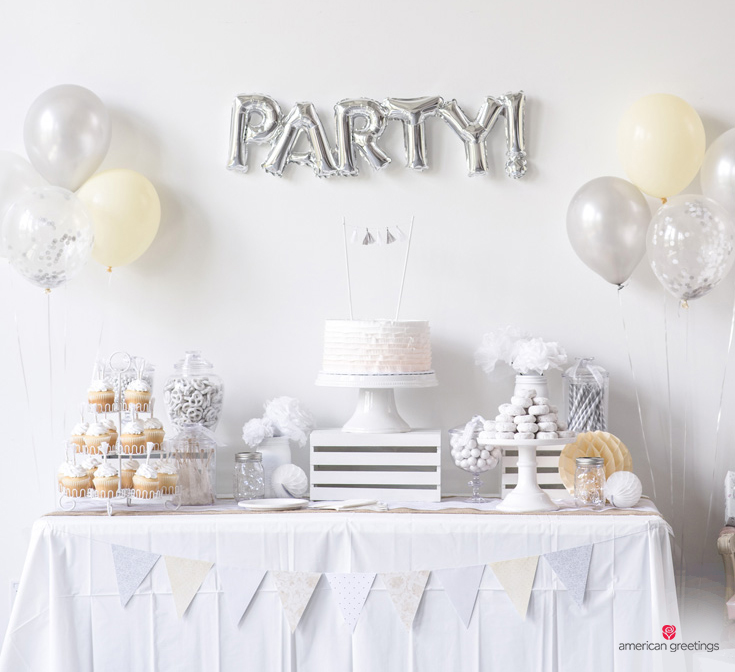 Personalized
jewelry

or

trinket box

Consider giving a personalized box for jewelry or trinkets. There's a good chance the child receiving his or her first communion will have a rosary or jewelry in need of safekeeping. If anything, he or she can keep it on a bedroom nightstand or dresser and use it to store odds and ends or other small valuables.

Whether you choose wood, metal, or glass, find an engraving service to personalize the box with the child's name. Other ideas include adding the date of their first communion or their birthstone. You could even leave enough room to add future dates of religious importance such as first confirmation or marriage, making it an heirloom they'll cherish for years.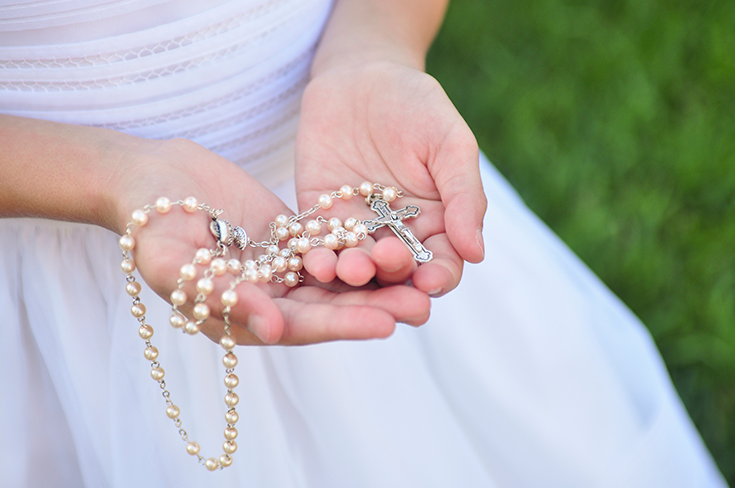 A
fun outing
Sometimes non-tangible gifts are more valuable than anything a child will unwrap, so think about something the girl or boy loves to do. Maybe it's putt-putt, attending a major league baseball game, or a trip to the zoo. No matter the activity or event, dedicate the day to making memories.
A clever way to present this gift (and every gift, really) is with a greeting card. Your little one may think they're only getting another card, but when they read what you've written inside they'll learn all about the special day you have planned.
A child's first communion is a great gift-giving opportunity to instill the importance of moments and relationships rather than things. So no matter what gift you choose, we hope that we've helped you find a way to do just that.