Mother's Day Gift Guide
---
From guiding us through life and helping us grow, to juggling daily tasks and family schedules, mothers take on a physical and mental workload that often goes unseen and underappreciated. Even though Mother's Day is meant for celebrating moms and everything they do, we all know they deserve more than just one day of recognition. And if you're a mother, you probably agree, too!
That's why we think a Mother's Day gift should be both meaningful and memorable. So how do you find a gift that measures up? Well, lucky for you, it's a lot easier than you may think.
We're here to help with a list of creative and affordable Mother's Day gifts, some of which might even spark your own creative ideas!
Breakfast in Bed
For so many mothers, mornings are the most hectic part of the day. Sometimes busy mornings mean sacrificing breakfast to tend to kids, work, housekeeping, or all the above. If she's usually too busy to eat breakfast in the morning, breakfast in bed is a small gesture that goes a long way.
Let her relax (and sleep in!) and start her Mother's Day with some of her favorite breakfast staples, or a little bit of everything if she's not picky. If the thought of waking up extra early to make breakfast is daunting, consider a breakfast casserole you can prepare the night before; all you have to do is wake up and pop it in the oven.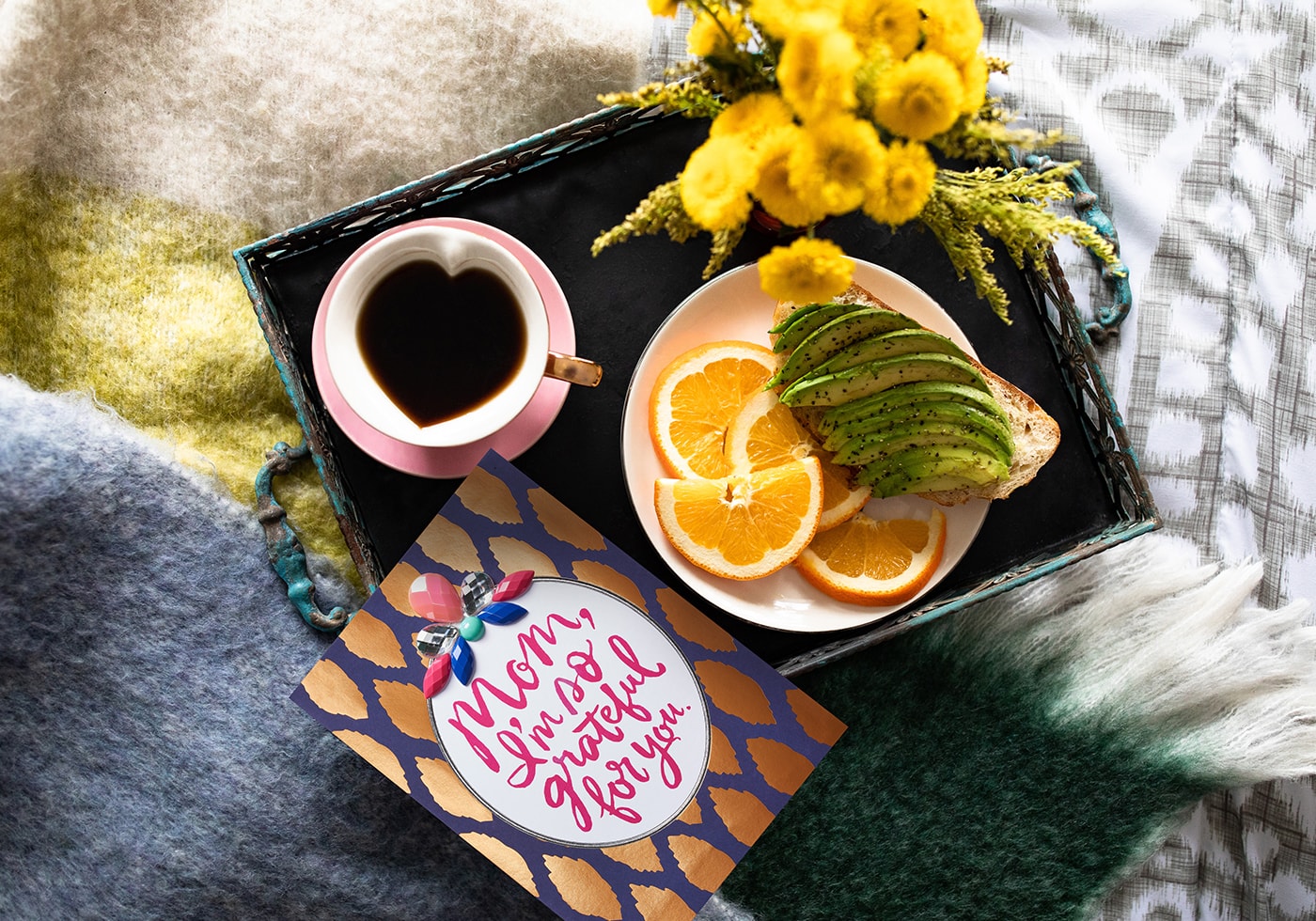 Gifts of Service
Let's be honest: there are some household to-dos that are just so much easier to put off than others. (Think deep-cleaning the bathroom, shampooing the carpet, and so on.)
Is there a task or project she's talked about but hasn't yet gotten around to? A great way to show your appreciation is to take some work off her plate. Whether you hire a professional or do it yourself, you're making it easier for her to do the things she loves, like spending time with you!
This can even be as simple as running her errands for a day, getting her car washed, or tidying up around the house.
"Open When" Card Bundle
Mother's Day comes only once a year, but you can give a gift that continues to celebrate Mom in every season. An "open when" card bundle is the perfect gift that keeps on giving.
You can purchase a card bundle or easily make your own. Buy various cards for different occasions (we recommend at least 10 cards) and label the envelopes with "open when" moments. Here are some ideas:
Open when you need a pick-me-up
Open when you want to read something funny
Open on a vacation day
The idea is that you'll gift all the cards on Mother's Day, but as the name of this gift idea suggests, she'll open them as instructed. Don't forget to include a card in the bundle that she can open on Mother's Day! (Tip: Check out these ideas for what to write in a Mother's Day card.)
Memory-Making Experiences
Some of the best gifts can't be unwrapped, so consider gifting Mom an experience she'll never forget. Think about her interests or, better yet, something she's always wanted to do or learn. There are classes and workshops for just about everything these days, from macramé and macarons to candle-making and hand-lettering.
Another way to spend quality time without breaking the bank is by being a tourist in your own town. Visit a restaurant you've never been to and explore some of the hidden gems your city has to offer. Or take a day trip and travel to a park, historic site, winery, or other popular landmark around where you live.
Self-Care
Personal wellness and self-care is something we all value, but moms especially; they spend so much time caring for others, so it only makes sense to return the favor. A spa package is always a good idea if you're short on time (and can afford it), but why not make her gift a little more personal?
Create a personalized at-home spa kit, complete with things like a cozy robe, bath and beauty products in her favorite scent, nail polish or hair care. To really go the extra mile, include a bottle of wine, essential oils, or a book in her favorite genre. Then tie it all together with this candle that lets her know just how marvelous she really is.
Subscription-Based Gifts
What isn't there a subscription for nowadays? From pet supplies and jewelry to wine, succulents and makeup, there's virtually something for everyone. Subscription-based gifts are great because they give her something to look forward to every month. Plus, many subscription services offer gifting options which allow you to choose how many months you want to pay for.
Keepsakes She'll Cherish
Quality time and thoughtful gestures are great, but sometimes you find something you can't wait for her to unwrap, like this Best Mom Ever trinket dish. Whether she uses it to hold jewelry, loose change, or other personal items, she'll have an everyday reminder of you and your gift.
Speaking of everyday reminders, how about something she can wear…every day! No matter Mom's style, you can find a piece of jewelry to personalize with a custom name or message especially for her. Think outside the (jewelry) box with this one; maybe it's a bracelet engraved with her favorite quote or lyric. Or a ring with the coordinates of a meaningful place engraved on the band.
Pair any of these Mother's Day gift ideas with a Mother's Day card and wrap in a gift bag with tissue paper or colorful wrapping paper.
Send a Surprise Straight to Her Inbox
So you want to recognize the mothers in your life on Mother's Day – friends, coworkers, women who have inspired you, etc. What if we told you there's a way to celebrate ALL the moms you love? Yep, ecards are perfect for sending a thoughtful message to someone you care about, and it's SO easy to do!
Choose from our large selection of free and premium Mother's Day ecards to send.
Select a card that's perfect for her.
Personalize and send in minutes to help her celebrate a special Mother's Day!
However you decide to celebrate the mothers in your life, it's important to remember that it's the thought that counts. Let her know she's doing a great job, and enjoy every moment you have together.
Browse Our Collection
Share exceptional ecards with exceptional moms!
Find a Creatacard for any occasion!