Bar Mitzvah & Bat Mitzvah Gift Ideas
Bar mitzvahs and bat mitzvahs are momentous occasions for 13-year-old Jewish boys and girls, respectively. These coming-of-age ceremonies mark the transition into adulthood according to Jewish religious law and are typically followed by parties to celebrate the milestone.
So what's an appropriate gift to honor the special boy or girl? Sure, you could resort to coveted goodies and gadgets or money in a card, but gifting something thoughtful will make their bar mitzvah or bat mitzvah that much more meaningful.
We've pulled together some of our favorite bar mitzvah and bat mitzvah gift ideas that are easy, affordable, and best of all, show how much you care.
Tzedakah Box
Most commonly used to mean "charity," tzedakah refers to the act of giving to the less fortunate and is an especially important obligation in Jewish tradition. A tzedakah box is simply a receptacle meant for collecting money for charity. It's customary to place money in a tzedakah box just prior to Shabbat (the Jewish Sabbath), holidays, and other occasions, making it the perfect bar mitzvah or bat mitzvah gift.
You can find tzedakah boxes in many sizes and styles, from simply designed to elegant and ornate. Consider purchasing a simple one made of wood or aluminum and customize it with engraving. If you're extra crafty, make one from scratch and decorate it yourself. Either way, a tzedakah box will serve as a constant reminder of charity and goodwill.
Donation
Speaking of charity and goodwill, a donation is a perfectly suitable gift for a bar mitzvah or bat mitzvah. Think of a cause or charity he or she supports. Maybe it's animals, music, or art. Whatever you choose, donate money in his or her name. You'll likely receive a confirmation email or letter once you make the donation, which you can include in a greeting card.
Here's a tip: whether you're donating to a charity or gifting money in a card, remember the number 18; it's associated with the word chai, which is Hebrew for "life," so monetary gifts in increments of 18 are appreciated in Jewish gift-giving.
Jewish Jewelry
Jewelry makes a timeless gift for bat mitzvahs and bar mitzvahs alike. Popular themes include necklaces with the child's name in Hebrew, Star of David, and the Tree of Life.
Similarly, a nice wristwatch is a popular gift among boys who may not wear necklaces or bracelets. You can find many styles which include Hebrew letters, or you can buy a standard watch and have the back engraved with his name and bar mitzvah date.
Subscription Box
There's a subscription box for pretty much every hobby and interest out there, whether you're into fitness, food, or beauty. Gifting a few months' worth (or even an entire year) of a subscription box is the gift that keeps on giving. And what teen wouldn't like having something to look forward to every month?
Think of something he or she loves, and use a greeting card to tell them what they can expect. They'll appreciate the thoughtfulness and think of you every month when their package arrives on the doorstep.
No matter the gift you choose, remember it's the thought that counts. So whether you say it in person or in a bar mitzvah or bat mitzvah greeting card, let them know you're proud of them and happy you could be part of their special day.
Bar Mitzvah And Bat Mitzvah Selection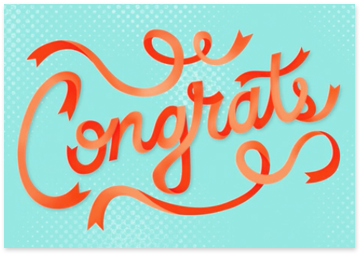 Bar and Bat Mitzvah congrats ecards