Anniversary Gift Guide -
11th Anniversary
Traditional 11th Anniversary Gift Ideas: Steel
Modern 11th Anniversary Gift Ideas: Fashion Jewelry
This beautiful couple is now entering their second decade of marriage! Isn't that amazing? Eleven years of love, laughter, adventures, surprises…and one incredible bond. It's no wonder the traditional gift for this year is steel to celebrate the super-strong foundation of a great life built together.
While steel might not initially seem all that warm and fuzzy for an anniversary, there are plenty of cool gift ideas —from pretty bracelets to practical tools. And with fashion jewelry being the modern gift suggestion for year 11, you could combine classic and trendy with a stainless steel ring, symbolic charm, or monogrammed watch.
On the other hand, if you'd rather opt for flowers, the ever-popular tulip is the 11th year bloom. Keep in mind, though, that color does matter. While tulips generally signify perfect, enduring love, the yellow tulip is an exception as that's what you would send to an unrequited crush. But a bright bouquet of passionate red, prosperous purple, or affectionate pink (a nice choice from friends or family) would all be perfect for celebrating this beautiful eleven-year bond that just keeps getting stronger.
Formal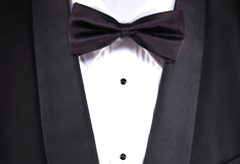 Stainless steel jewelry, watch, or key ring (can be engraved/stamped)
Engraved wine chiller or wine tools (splurge: wine refrigerator)
Pots/pans…and gift certificate to a couple's cooking class
Fun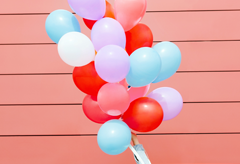 Retro metal cooler (can be engraved)
Magnetic healing bracelet or ring
Horseback or carriage ride (Hey, their shoes are made of steel!)
Flower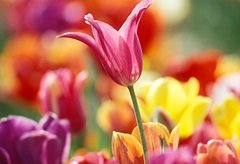 Tulip: perfect love, passion, eternal life
Transplantable tulip bulbs of different varieties
Tulip-shaped wine or champagne glasses
Trip to a tulip festival