Anniversary Gift Guide -
40th Anniversary
Traditional 40th Anniversary Gift Ideas: Ruby
Modern 40th Anniversary Gift Ideas: Ruby
Four decades of wedded bliss will have everyone seeing glorious red because the 40th anniversary is the ruby anniversary for traditionalists and modernists alike, while the garnet, too, makes for more modern choices. However, the ruby is hands down the most coveted gemstone of all and considered to be the most powerful gem in the universe.
Thought to possess an eternal inner flame, rubies are a symbol that the passion in a marriage is still alive and strong after 40 years together. The flame within the heart of this stone is said to grow brighter with each passing year, just like the flame of a 40-year marriage.
In Asian countries, rubies have always been held in high esteem, and were used to ornament armor, scabbards, and harnesses of noblemen in India and China. They were also laid beneath the foundation of buildings to secure good fortune to the structure —much like how they were Dorothy's foundation and transported her back to Kansas with only three simple clicks. Even Oz knew the power of rubies!
With a fiery-red gem at the helm, this major anniversary celebration will no doubt be done up right. The ideas for decorations, invites, centerpieces, and gifts are endless. Go all out and use sparkly ruby red glitter on flowers, cards, centerpieces, gift wrap, balloons, etc. Set the table with a ruby red tablecloth, rent china and crystal with a ruby red trim or tint, use ruby red votive candles, and place gladiolas in ruby red-colored vases. Here is where you can definitely get your Pinterest on!
Formal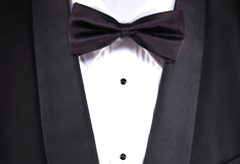 Renew marriage vows
Forty ruby red roses
Ruby necklace
Fun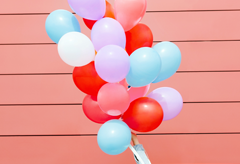 Movie buff? Give a pair of Dorothy's ruby slippers
Monthly red wine clubIndian
River ruby grapefruit for breakfast in bed
Flower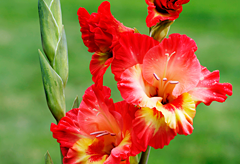 Gladiola: strength, moral character, sincerity
Real gladiola preserved with glazing
Personalized champagne flutes etched with gladiolas
Stained glass window, door, or hanging of gladiolas
Let Us Share More Inspiration With You